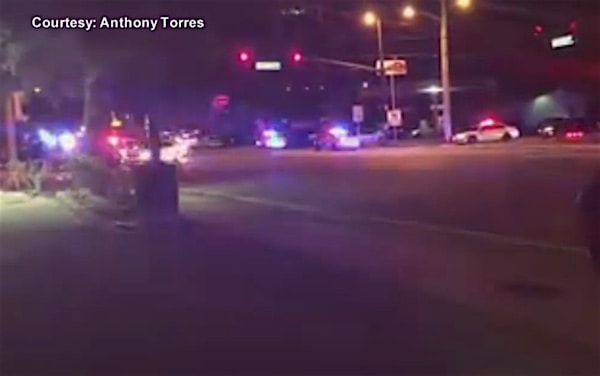 Developing (refresh for updates)…
A "domestic terror" incident at Pulse, a gay Orlando nightclub has left at least 20 dead and more than 42 injured after a gunman with an assault rifle , a handgun, and a "suspicious" device opened fire. Pulse is located at 1912 S. Orange Ave.
The incident reportedly began around 2 am. In a press conference earlier this morning, Orlando Police Officer John Mina said that the suspect, now deceased, "exchanged gunshots with an officer working at the club, then went back inside and took hostages around 2 a.m. About three hours later, a SWAT team made the decision to go inside and rescue the hostages. The shooter died in a gunfight with those officers."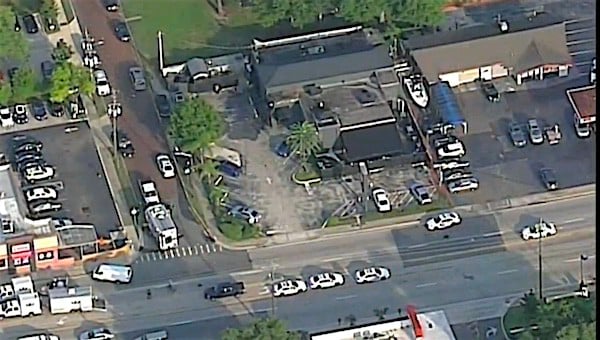 During a press conference Sunday morning, Florida Department of Law Enforcement spokesman Danny Banks officially classified the shootings at Pulse Nightclub as an "act of terrorism."
The FBI, along with numerous other agencies, was investigating the shooting and it was not clear if it was an act of domestic or foreign terrorism. There was no indication that more shootings were planned in Orlando or the state of Florida, Banks said.
During the same press conference, Orlando Mayor Buddy Dyer confirmed that numerous people were killed during the attack.
"Tonight, we had a crime that will have a lasting effect on our community," he said.
Orlando Police Chief John Mina said the department was currently working to remove any "devices" the shooter may have left behind. An OPD officer working at Pulse was the first to respond and exchange gunfire with the shooter, Mina said.  The shooter holed up in a bathroom with hostages and at about 5 a.m. "the decision was made to rescue the hostages that were in there," Mina said.
During the assault, "our officers shot the suspect," he said.
The suspect "had a device on him," prompting a search for others that may be at the scene, he said.
WATCH: @ABC News Special Report: Gunman dead after mass shooting at Orlando nightclub. http://bit.ly/1XgSTCr http://bit.ly/1ZIgOJ3

— ABC News (@ABC) June 12, 2016
//platform.twitter.com/widgets.js
Here's live coverage from WTSP:
And some earlier reports:
BBC: "Multiple people are dead inside" Police treating Orlando shooting as "an act of terrorism" … http://bit.ly/1ZIhH4m

— + BREAKING + EIL + (@BREAKING_EIL) June 12, 2016
//platform.twitter.com/widgets.js
Orlando Police Chief: Multiple people dead inside Pulse nightclub following shooting; at least 42 taken to hospitals http://bit.ly/1XgTN1M

— ABC News (@ABC) June 12, 2016
//platform.twitter.com/widgets.js
The FBI says there are "suggestions" that the shooter had ties to radical Islam:
FBI: There are "suggestions" shooter at Orlando nightclub had radical Islamic leanings http://bit.ly/1ZIgOsA http://bit.ly/1XgSwrz

— ABC News (@ABC) June 12, 2016
//platform.twitter.com/widgets.js
Numerous videos posted to social media showed a a frantic scene swarming with police officers.
Gunshots could be heard in one video. A person behind the camera said it seemed like the attackers were exchanging gunfire with police.
Shooting at Pulse Nightclub on S Orange. Multiple injuries. Stay away from area. http://pic.twitter.com/5Di2mc6XUY

— Orlando Police (@OrlandoPolice) June 12, 2016
//platform.twitter.com/widgets.js
Medics were seen attending to victims on the sidewalk.
Dozens of witnesses in #pulseshooting bussed to @OrlandoPolice headquarters for questioning.@WFTV http://pic.twitter.com/Jay6mDa9aH

— Roy Ramos (@RRamosWFTV) June 12, 2016
//platform.twitter.com/widgets.js
The post Mass Shooting at Gay Orlando Nightclub Leaves at Least 20 Dead, 42 Injured appeared first on Towleroad.
from Towleroad News #gay http://bit.ly/1XgTnbK
via IFTTT