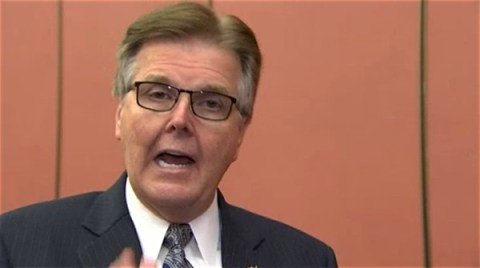 Republican Texas Lt. Gov. Dan Patrick says he'll "consider" meeting with transgender children and their families in response to an invitation from parents earlier this week.
At a press conference Tuesday, Patrick encouraged Texas school districts to ignore the Obama administration's directive requiring public schools to allow trans students to use restrooms based on their gender identity. Patrick has also said he's willing to forego $10 billion in federal education funding to avoid complying with the directive, and he's seeking an opinion from anti-LGBT Attorney General Ken Paxton about whether the Fort Worth school district's new pro-trans guidelines violate state law.
In response to Patrick's announcement, Equality Texas staged a press conference featuring the parents of trans kids, who said the lieutenant governor is endangering their children's lives and invited him to meet with them.
"I was not aware they wanted to meet until they asked for a meeting, and we had a full schedule as we always do when we come to Austin … so we did not have time to meet today, and we will be happy to consider the meeting," Patrick told Time Warner Cable News on Tuesday night.
Patrick proceeded to downplay the parents' concerns because only six of them attended the Equality Texas press conference. He also stated that he isn't open to the possibility of changing his mind.
"We don't know the real statistic, but about three-tenths of 1 percent is the belief, of the population is transgender," Patrick said. "We announced this press conference Friday, so they had four days to gather a lot of people. Six people came, and I'm not sure what they protested, but our point is, we don't want teenage boys showering with teenage girls."
Patrick, who's staged three press conferences on the subject in recent weeks, went on to ironically proclaim: "We're spending way too much time on this issue."
On Wednesday, Equality Texas CEO Chuck Smith appeared on Time Warner Cable News to respond to Patrick, calling the lieutenant governor "a bully."
"Our message is that the lieutenant governor doesn't speak for all parents in this state, and that the actions he's now taking, while perhaps appropriate for a shock jock radio announcer, are embarrassing for a lieutenant governor," Smith said. "There are parents of transgender children in this state, whose kids deserve a safe education just like everyone else, and the lieutenant governor is using those kids as pawns in a political game that at the end of the day probably has little to do with bathrooms, and much more to do with the lieutenant governor trying to advance his own personal political agenda."
The post Texas Lt. Gov. Dan Patrick Says He'll 'Consider' Meeting With Parents of Transgender Kids appeared first on Towleroad.
from Towleroad News #gay http://bit.ly/1U0dWXF
via IFTTT